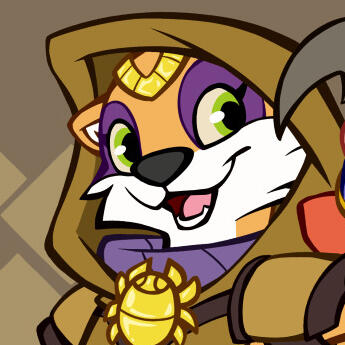 Artist | Sleepy bean | Trying her best
Commissions: OPEN
Check out my links below to support me, or join the Axie Stack community! Thanks for stopping by! I'm glad you're here!
---
Need further info? DM me on Twitter or email me at keosika@gmail.com!
Commission Prices
Steve and Pals Style -- $60
Portrait -- $70
Full Body -- $85 (+60 per additional character)
---
Reference Sheet -- Starts at $150
+ $45 for Closeup
+ $85 for additional views

Emotes/Telegram Stickers -- $25 each
Sub/Bit Badges -- $25
---
Add a Background! Starting at $50
---
Terms of Service

1. I retain the right to decline a commission for any reason

2. I retain the rights to the art itself for self promotion or to display in my portfolio unless otherwise agreed upon

3. I do not claim the rights to the character(s) depicted in the commissioned art unless they were originally created by me
---
Will Draw:

-- OCs
-- Anthros/Furries
-- DnD Characters
-- Fan Characters
-- Humans and Creatures

Will Not Draw:
-- NSFW
-- Fetishes
-- Gore
-- Very complex machines or technical drawings
-- Licensed Characters (fan characters are fine)
---
You MAY: Use this art for personal use, such as an avatar/icon, wallpaper, profile photo, or display it in your gallery. You may make a print for non-profit use

You may NOT: use this artwork for commercial purposes (for profit/to sell) unless otherwise agreed upon, and you may not profit off prints of this art
Meet the Pals
Steve
Pronouns: He/Him
Birthday: January 13th
Likes: Dancing, Arts and Crafts, Board games, You!
---
Bio: Steve is everybody's best friend! His positivity and exuberance rub off on everyone, so it's impossible to stay grumpy or sad when he's around! He's generous and loves to share his snacks with friends. He loves his friends, even the ones he hasn't met yet! He can be a bit naive, but he always tries his best!
---
Blue
Pronouns: She/Her
Birthday: May 25th
Likes: Puzzles, Gardening, Walnuts
---
Bio: Blue is a curious little crab from a large family who can be quite shy. However, after meeting Steve, she really came out of her shell (pun intended!). She loves to explore the world around her and is a skilled climber! She discovered her favorite snack, walnuts, after curiously cracking one open! Blue enjoys quiet conversations with her pal Crouton.
---
Crouton
Pronouns: They/Them
Birthday: February 10th
Likes: Sweets and desserts, swimming, reading
---
Bio: Crouton is a lettuce slug who loves sweets! Their friends love baking them all kinds of tasty treats, which they always appreciate! They don't talk much, but always help out with cleaning up! Crouton is a sixth generation Crouton, heir to the Sea Salad Kingdom. They hope they will be a kind and softspoken monarch.
---
Shay
Pronouns: She/Her
Birthday: November 12th
Likes: Playing outside, chatting, snuggling while watching movies
---
Bio: Shay is an energetic kitty who is a big ball of fun! She loves going for strolls in the park, playing games with others, eating snacks, and chatting with her friends. She hasn't met a single person she doesn't end up liking! After using up all her energy having fun, she likes to recharge in a sunny window.
---